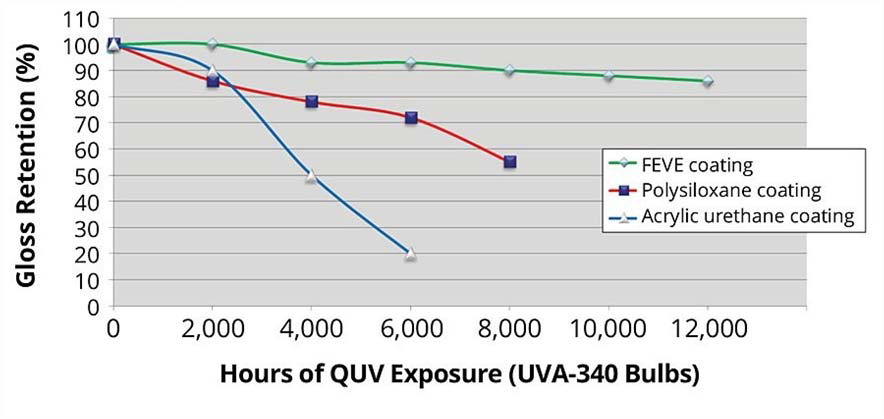 • The FEVE Coating is the type of Fluoropolymer we have.
• The Polysiloxanes are a newish coating system with
enhanced UV and chemical resistance compared to more
traditional protective coatings, such as epoxies.
• Acrylic Urethane coatings are an enhanced acrylic
coating system with urethane in a 2 pack mix for superior
performance in exterior conditions.
• The results are with at least 80% gloss level left.
• FEVE Fluorploymer, 12,000 hrs
• Polysiloxanes: 3000 hrs
• Arcylic Urethanes 2000 hrs
• Meaning FEVE Fluoropolymers are able to withstand
9000 to 10,000 more hours of UV radiation than the
others, in an accelerated environment test.
• As a guide, each 1000 test hrs equates to 1-year of exposure
in the Australian climate.
• For paints Ultra Violet (UV) Sun rays are the killer
• They usually degrade quickly and need a
recoat within 6 – 7 years
• A&I Fluoroploymers are engineered better
to resist this
• The long chains of very high strength
molecular bonds cannot be broken by UV attack
• FEVE Fluoropolymers are basically inert and very stable
• Means a very long-lasting & proven coating, ideal for tough situations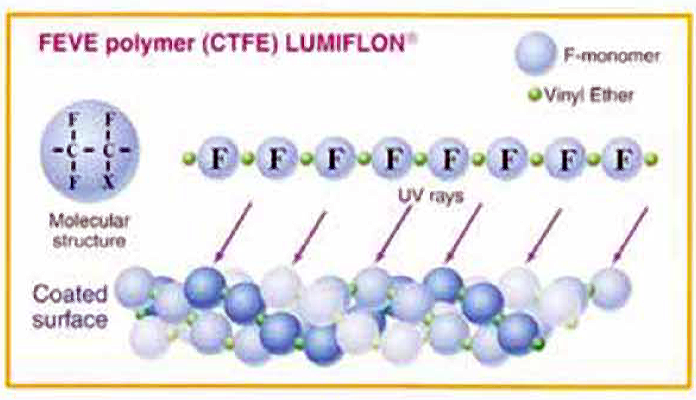 Key Benefits of A&I Fluoropolymer Coatings are:
⇢ Highly Durable – proven to last more than 30 and expected up to 60 years in very aggressive environments.
⇢ Protective – shelter the underlying substrate from the ravages of the environment.
⇢ Great Value – very competitive when compared to the best of the existing coatings.
⇢ Very Stable – resists any deterioration.
⇢ The ultimate resistance to the degradation caused by UV light – long term gloss retention.
⇢ Very long-lasting – save expensive, disruptive and unplanned maintenance costs.
Overall the most economic of coatings when compared to all others during their life.