Still Australia's
Best Value

Pool Coating

Your pool needs to look good so you, your family and friends, want to dive right in.

With Epotec NT, you can have that, season after season.

Epotec NT (New Technology) is the updated version of Australia's best value 2 pack, pool coating.

Epotec NT provides an attractive, seamless, hard wearing and easy clean surface for many years.

Epotec NT pool coating can be applied by independent contractors in most parts of Australia or DIY.

If your pool is tired, worn, unattractive or just hard to keep clean, your pool can have a new lease of life with Epotec NT epoxy coating.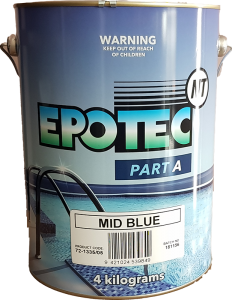 Epotec is the leading pool coating system and:
provides an amazing, durable coloured finish
designed to work on concrete (painted or not), Marblesheen, Pebblecrete or Fibreglass
is specially formulated to be UV, wear and scratch resistant
when fully cured provides a hard, smooth, easy to clean surface without nooks and crannies for algae to lodge in, unlike other rough, porous surfaces
resistant to chalking, pool water chemicals and salt and is safe to use with fish
used in pools in the tough Australasian environment for over 20 years. It's a proven system and will last season after season in your pool
widely used in new or existing pools, from back yard to Olympic sized and beyond
we deliver Australia wide
can be applied by brush, roller or spray
can be applied by you (DIY), by Approved Contractors or your favourite painter
budget about $1300 – $2300 (DIY) and $4500 – $7000 (Applicator) for average size pools.
For prices and quotes

Looking for a professional to resurface your pool?

For DIY we offer comprehensive information and support

Also please take a few minutes to see the other parts of our web site. There's lots of useful information there to guide you and answer your questions. Also see the Project Galley above.

We are focused on saving you time and money in the long term with a low maintenance finish, so you spend more time in your pool not working on your pool.

Check our latest NEWSLETTER, this time we show you how EPOTEC works successfully upgrading previously painted pools.

With Epotec you are making the right choice. Join thousands of other satisfied clients, Australia wide.

On the following pages you will find much useful information.
I just wanted to let you know I was very impressed with the quality of your pool paint. I have a fair amount of experience using various epoxy finishes, which are not usually what you could term "user friendly." Frankly, I was dreading this job. However, I found your product to be far easier to use than I had expected. It was easy to work, had a good pot life when mixed, and was surprisingly solvent-free. Moreover, it did exactly what the instructions said it would with respect to coverage. We are extremely pleased with the end result; our very tatty, discoloured, 20 year old pool was actually mistaken for a newly-built one by the builder who has just moved in next door (he wanted to know who did it and how much did it cost!). Besides the good looks, we have found it much easier to maintain the pool chemistry and I suspect our chemicals bill is a bit lower now; before we painted, the pH kept going off but now its completely stable. Finally I would like to thank you for your technical support with this job and to say that I would have no hesitation in recommending this product to other pool owners. My only regret is that I didn't take a 'before' photo!