Australia's Best Value Pool Coating
Is your pool (or spa) due for a makeover?
If so Epotec epoxy pool coating is the answer, applied by independent contractors in most parts of Australia or DIY.
If your pool is tired, worn, unattractive or just hard to keep clean, your pool can have a new lease of life with Epotec hi build 2 pack epoxy coating.
Bring your biggest back-yard asset back to life, so you can enjoy life again!!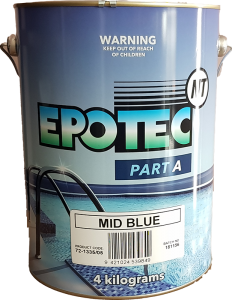 Epotec is the leading pool coating system and:
provides an amazing durable coloured finish
designed to work on concrete (painted or not), Marblesheen, Pebblecrete or Fibreglass
is specially formulated to be UV, wear and scratch resistant
when fully cured provides a hard, smooth, easy to clean surface without nooks and crannies for algae to lodge in, unlike other rough, porous surfaces
resistant to chalking, pool water chemicals and salt and is safe to use with fish
used in pools in the tough Australasian environment for over 20 years. It's a proven system and will last season after season in your pool
widely used in new or existing pools, from back yard to Olympic sized and beyond
we deliver Australia wide
can be applied by brush, roller or spray
can be applied by you (DIY), by Approved Contractors or your favourite painter
budget about $900 – $1500 (DIY) and $4000 – $6000 (Applicator) for average size pools.
For prices and quotes

Looking for a professional to resurface your pool?

For DIY we offer comprehensive information and support

Also please take a few minutes to see the other parts of our web site. There's lots of useful information there to guide you and answer your questions. Also see the Project Galley above.

We are focused on saving you time and money in the long term with a low maintenance finish, so you spend more time in your pool not working on your pool.

Check our latest NEWSLETTER, this time we show you how EPOTEC works successfully upgrading previously painted pools.

With Epotec you are making the right choice. Join hundreds of other satisfied clients, Australia wide.

On the following pages you will find much useful information.
Your "Bondi" mid blue Epotec epoxy Poolpaint arrived  quickly and OK for our 11mx 4m x1.5m Fibreglass Pool which is about 25 years old and has not been touched but was in pretty good condition.
We started emptying our Fibreglass Pool just using Pool Pump to waste
After 2 days of sanding and a couple of minor fibreglass and bog repairs, and NO RAIN my wife and I got into the painting with Epotec. It was 15 deg at 8am when we started and did not go above 25 to 30 deg for the 3 days we took. The first coat I did the top and around the leaf gutter and kids ledge half way down walls, with a 120 mm lambswool roller which worked very well, and my wife did the sides and bottom with a 250 mm lambswool roller. The first coat took more time and it took the 2 of us until 2pm to finish with 1/2 hour for lunch.( 6 hours) We changed rollers and cleaned roller frame (used same frames for all coats) for each can of paint and it took 3 cans with each can having 50ml of thinners added prior to the hardener. Same procedure each day with the 3rd day having 2 cans left (we had 8) so walls and floor got a third coat which only took me about 3 hours as no fiddly bits. It looks great and we were very pleased with the product and our efforts.
No rain on it while we worked or afterwards while it cured.We gave it 6 days no rain 30 deg temp to cure, then filled it with 2 garden hoses taking a total of 16 hours over a day and a half.
Thanks for your help. I am a handyman and do most jobs and had a farm so this was no big deal but a lot of time and sweat expended (we were careful to have an old towel rag around our necks to mop up sweat so it didnt fall onto wet paint, (although you said that minor water wouldnt worry it) on hot days getting it prepared. The mid blue colour shows a very slight green tinge to it when filled with water and looks like clear Barrier Reef diving areas, so turned out great.
Thanks for your help on the phone when we ordered. So far very happy, and hope it lasts a long time.